"BOB'S UNIVERSITY" (co-written with James Krouse)
Bob, a slacker kid, wins the lottery and then buys his university. As Bob wracks changes upon campus, he rises to the heights of cool, but of course he must fall and then ultimately, receives a strange redemption. In tone, it can roughly be compared to Wes Anderson's "Rushmore," but sweeter. The humor is alternately low brow and high brow, somewhere between raunchy and charming.
A Bare Bones Screenplay Competition Semi-finalist in 2000.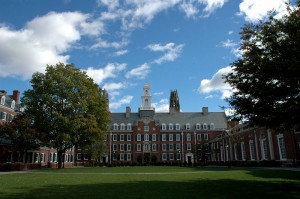 (Note: Yale University, Davenport College photo by Charles Drucker, used by permission via Creative Commons)
Banner image: The Old Long Branch High School, © Julius Galacki