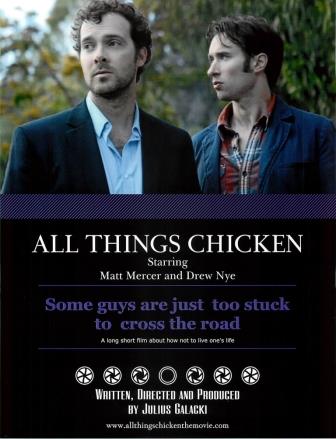 For much more information, please go to the film's website WWW.ALLTHINGSCHICKENTHEMOVIE.COM
As well as watch the Trailer (edited by Lindsie Carlsen, score music by Ben Wise) or view the IMDB page for full credits.
BRIEF SYNOPSIS of "ALL THINGS CHICKEN":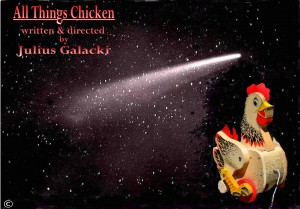 "…Chicken" is a 28 minute 58 second comedy-drama set in a "wasteland", or more specifically Bob's Big Chicken 99, as well as, metaphorically, other places where chickens reside:
two guys who are very stuck in their lives pass the time by talking about profound things in profoundly foolish ways. It's my version of "Waiting for Godot" but with a more hopeful twist. The film stars
Matt Mercer
and
Drew Nye
, with cinematography by
Matthew Cooper
.
History:
(click on the link for more info. on each and to view:)
Pitch video… the crowd funding campaign only covered a small portion of the funds that I spent from my own money, but the video does give you a feel for what the finished product is like.
"All Things Chicken" was originally written for the stage and first produced at the Yale School of Drama.
2005 – "All Things Chicken test shoot" (resulting in a trailer only)starring Julius Galacki and Jeff Teitler, directed by Jeff Teitler
Banner Image: Matt Mercer and Drew Nye at the Sepulveda Basin, All Things Chicken crowdfunding shoot, still photo by Julius Galacki ©